Be Equipped! Be Encouraged! Be Inspired!
Online Bible Studies
No-Homework Bible Studies 
Key Principles of Biblical Fasting
Thursdays, August 24-October 5, 2023, 7:00-8:30 pm ET, Register Now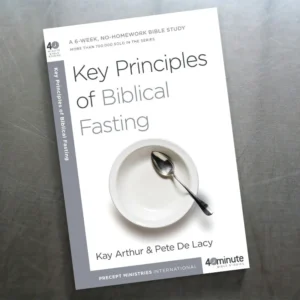 Description: In Matthew 6, Jesus taught us how to fast, setting an expectation that fasting would be a part of each Believer's life. In the Bible, there are many situations where people fasted and prayed, and God moved powerfully in response to their humility. Can we get what we want from God simply by skipping meals? Is this a formula to manipulate Him into answering our prayers? By no means! Praying with fasting does not change an unchanging God…it changes us. Join us for this exciting study about the effects biblical fasting has on our lives: How it draws us closer to the Lord, helps us have His perspective, humbles us, and grows our faith. These are difficult times, and many of us are desperate to hear from the Lord. One way to do that is through the humility of biblical fasting. There is no requirement to fast during this study – just come and learn from Jesus, the humblest of all.
Money & Possessions: The Quest for Contentment
Thursdays, October 12-November 16, 2023, 7:00-8:30 pm ET, Register Now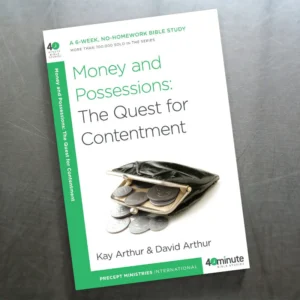 Description: Money is a topic we often avoid discussing. We may attach our security to our savings account and fear losing it. We can also be consumed with anxiety about how to produce more income. We live in uncertain times, but we can be certain of the truth of God's Word. Jesus told us not to worry about food and clothing because God knows we need them and He will take care of us. More than that, He offers us a full and abundant life by faith in Christ! Join us for this six-week Bible study as we explore the quest for true contentment – how Jesus completely satisfies our deepest longings, regardless of the current economy or our personal finances.
Precept Upon Precept (Bible Studies with Homework)
PUP John Part 2 The True Vine…One with Him
Mondays, August 21-October 16, 2023, 7:00-8:30 pm ET, Register now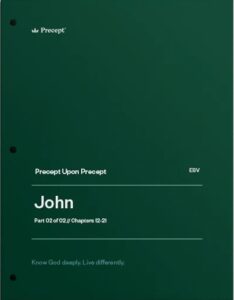 Description: There are no prerequisites for this course.
In John's gospel, the apostle offers convincing proofs that Jesus is indeed God. Come and hear Jesus' teachings and witness His miracles. Listen to His prayer for you. Observe how He willingly gives His life for us so we can have a joyful, abundantly fruitful life now and eternally. Gain an understanding of what it means to follow Him and see where this path leads!
PUP Ecclesiastes: Life Under the Sun
Mondays, October 23-November 20, 2023, 7:00-8:30 pm ET, Register now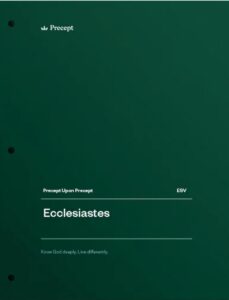 Description: Why are we here? What is life all about? Is it all in vain? Meaningless? Let's see what God says about life on Planet Earth through the writer of Ecclesiastes. This study is a great way to wrap up 2023 as we reflect on the past year and look ahead to the next.
Other Ministry Opportunities
Precept Upon Precept Bible Study Leader Training
Do you have a desire to see others studying God's Word? Do you enjoy speaking in front of others? Perhaps the Lord is calling you to become a Precept Upon Precept Bible study leader. We offer free training and count it an honor to be a part of the multiplication process – disciples making disciples who will make disciples. Contact us for more information!
Note: We are available for speaking & singing engagements for small groups, worship services, retreats, and other special events. Contact us to learn more or schedule your event.